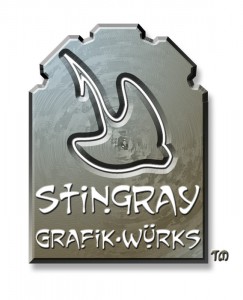 Stingray Grafik Wurks is the art studio of JDRay and Aimee Ray which had been predominately used for the creation of comic book art. JD started in 1993  and Aimee started in 1995 at Heroic Age Studios coloring comic books for companies such as Marvel, DC, Dark Horse, Big Entertainment, Image and others.
In 2005 Stingray Grafik Wurks, Inc was born.
They now do comics and any other artistic things that strike their fancies, but Stingray will always be dedicated to a combination of graphic design, illustration and pop art type pursuits.