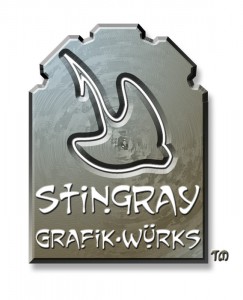 Stingray Grafik Wurks is the art studio of JDRay and Aimee Ray which had been predominately used for the creation of comic book art. JD started in 1993  and Aimee started in 1995 at Heroic Age Studios coloring comic books for companies such as Marvel, DC, Dark Horse, Big Entertainment, Image and others.
In 1998 the pair were married and shortly after started their own studio, which was nameless until 2005 when Stingray Grafik Wurks, Inc was born.
They now do comics and any other artistic things that strike their fancies, but Stingray will always be dedicated to a combination of graphic design, illustration and pop art type pursuits. Hopefully in time Stingray-Grafik  will be the imprint for their own personal Grafik Novels™.
Our grafik design rates are $25 an hour with a minimum of 2 hours per job. Your printing costs will be at cost every time!
The rates for WordPress sites is $500 per page. If you need e-commerce the rates will be a little more. We set you up with a web address, hosting and other hosting related items and let you handle those payments which are also at cost. We can manage your sites with regular maintenance as well for a low yearly fee or we can teach you to manage your day to day yourself. Artists needing a blog/portfolio site and non-profit organizations get a discount off of our hourly rates.
Contact us for information or quotes for your next graphic and/or web design project!